Athens Chiropractor : Dr. Meg Ann Lawson
Years ago my life changed forever. I was suffering from daily headaches and chronic migraines.
I suffered from chronic pain since I was five years old, as I got older it got worse. The pain in my head was so intense that I couldn't do anything. I was missing work and time spent with my family and friends. I was afraid I would lose my job if the disability continued. I had tried the "medical" route without success. I had multiple tests and was given drugs to take. But I was still having pain.
One day in 1990, while working as a Respiratory Therapist in Boston, a nurse friend referred me to her chiropractor. The chiropractor did a thorough examination and then adjusted my spine. The adjustment didn't hurt, it actually felt good. I got relief, and got my life back again. It worked so well that I cancelled my medical school application and enrolled at Life University School of Chiropractic. Chiropractic has been a life changer and it is my passion. And I am proud to say I no longer suffer with daily headaches.
Chiropractic Education
Dr Meg Ann Lawson has achieved years of medical and chiropractic training. Here are a few of her highlights:
Bachelor of Science Degree from Quincy University, Quincy, Illinois, 1985, in Pre-medical studies: Biological Sciences, with a chemistry minor and a concentration in psychology.
Life University School of Chiropractic in Atlanta GA. I graduated Cum Laude in March 1994. I am Board Certified in Physiological Therapeutics from National College.
Masters degree, summa cum laude, in Human Clinical Nutrition and functional medicine from the University of Bridgeport.
Carrick Institute of Graduate Studies Program 350+ hours in Functional Neurology.
FMSCA Certified DOT CDL Medical Examiner
Specialist in Exercise Therapy and Corrective Exercise Specialist
Certified Chiropractic Extremity Practitioner
Certified in Webster's intrauterine breech baby technique
Certified in Basic Activator Methods
Certified in Basic and Advanced Sacro-Occipital Technique (SOT)
Certified as a NIMMO Receptor Tonus Practitioner
I have completed numerous hours in advanced chiropractic, corrective exercise, functional medical nutrition and functional neurology, pediatric and pregnancy chiropractic, and rehabilitation. I formerly worked as a research associate at Harvard Medical School and was a Registered Respiratory Therapist for 12 years. I work with people of ALL ages from newborn to seniors. I have adjusted athletes, including Olympic, Professional, and University levels. I have treated professional musicians and professional dancers. I have been adjusting animals of all ages and sizes since my clinical days at Life University in the early 1990s.
My Philosophy
The statement " the power that made the body heals the body" is evident everyday in my office. Whether one is in pain, or has an ailment such as high blood pressure or an ear infection, if nerve interference is involved, optimal function gets restored, then the patients symptoms improve. My goal is to bring chiropractic to the community to as many people and animals as possible. My goal is to help make our community a better place to live.
The patients that respond the best to care in my office are the ones who keep their appointments, do all the rehab homework, and follow the recommended care plan. I believe in doing "chiropractic first, medicine second, and surgery last." Of course there are always some exceptions to this rule, such as medical emergencies.
On a Personal Note…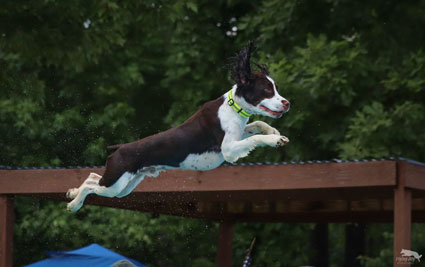 I have three active dogs and a cat. I love to take my camera out and take photos of just about anything. I'm a music lover and enjoy playing drums. I am somewhat of a movie buff. I love sports, especially the Red Sox and the Boston Celtics (can you guess where I was born and raised?). When I take a vacation I usually go to the beach or to a Dock Diving event, to which my dog is an active competitor in the NADD. Being the daughter of a veterinarian and a former vet tech, I enjoy working with animals. Although I love adjusting humans of all ages, my all time favorite adjustment was when I adjusted a race horse. I have adjusted animals of all sizes, including a sugar glider, a rat, a goat, a wild guinea hog, a pot belly pig, rabbits, and of course, dogs and cats.
Patients often ask me , "Do you get adjusted?" Yes, I receive regular chiropractic care. I exercise daily. I mostly eat a healthy diet and avoid the Standard American Diet as much as possible.
Thanks for visiting our site. We look forward to meeting you in person. Give us a call so we can help you take your first step towards better health.
---
Dr. Meg Ann Lawson | Lawson Family Chiropractic | (706) 546-4488
Delivering quality chiropractic care to the Athens area since 1995